This past weekend I went to see Kathy Troccoli at the Metropolitan Room in New York City. It was my first time seeing Kathy live and my first time at the Metropolitan Room. Kathy has been on my must see list since the 90's when I first heard her song "Tell Me Where It Hurts". Her show happened to coincide with my partner's birthday, so what better way to celebrate than to take him to a concert I wanted to see…I mean what better way to make the night special for him…yeah, that's what I meant. Thanks to Priceline, I was able to score a 4-star hotel room at the Millenium Hilton and even Mother Nature cooperated by making it a beautiful weekend for me…I mean him…for his birthday.
The Metropolitan Room (34 West 22nd St) is in a narrow building with their bar in the waiting area and a curtain separating it from the venue. The performance area is warmly lit with chandeliers and cozily seats 115 at tables and booths around a stage that takes up the majority of a wall. There's a 2 drink minimum but if you're not a drinker, I recommend "The Joanne" (hold the ice) which is a delicious mixture of cranberry, orange and pineapple juices. It's the cheapest thing on the menu along with soda at $6.45. There's only one aisle in and out, so plan trips to the restroom accordingly. Seating is general admission and placement depends what price level you pay and what time you get there, however, there isn't a bad seat in the house.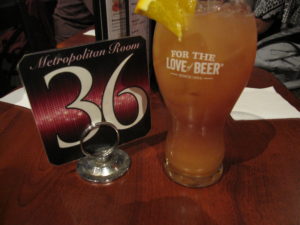 We were seated to the far right side of the stage at one of three two seat tables pushed close together. There was a blind couple with their dog at the table closest to the stage, an empty table, and then ours. We were waiting for the show to start, sipping our Joannes, when the blind man began feeling the surface of his table, then the adjacent table, and stretched over as he crept his hand towards my partner. My partner looked to me for help but I was laughing waiting to see how it played out. My partner leaned back in his chair to avoid contact, while the blind man fondled his area and snatched his napkin. The blind man sat up and proudly told his date that he "just stole someone's napkin". The rest of the evening was spent listening to them talk over the music and watching him pet her head like she was his dog.
Kathy came out on time with her three piece band. Never did I think, when my opportunity came to see her, that it would be in such an intimate setting. She looked great and sounded amazing. She chose quite a few songs from the American Songbook that I never heard before but suited her voice to a tee. She also did medleys of The Beatles and Disney songs, neither of which I'm a fan, but her jazzy vocals and arrangements made me a believer. I'm a big fan of Kathy's pop past but she records mainly gospel now so I wasn't surprised when she performed one of her own gospel songs beautifully and a passage from the bible in Bossa Nova fashion that was crazy good.
When I follow a diva, it's because her voice draws me in, and Kathy is no different. Her voice live is even better than recordings, if that's even possible. However it's a diva's personality that makes me an eternal fan and Kathy delivered. On stage she was funny, personable and even got teary when her family arrived. After the show she announced she would love to meet everyone and stood by the door to greet anyone who approached her. Of course I had to go up and gush a little. She held my hand as I blathered on, posed for a picture, asked who my partner (my personal paparazzi) was, held his hand, and thanked him for coming as well. He obviously enjoyed the show (so I can officially count this as his gift) because instead of standing by letting me go on, he stepped in to tell her it was the style of jazz he enjoys and the musicianship was impeccable.
In my gay opinion, if you're in the New York City area, definitely check out the Metropolitan Room if you want an old-school jazz joint. Also check out Kathy if she tours near you because she's an incredibly gifted singer who can restyle any song into her own. She is going to be back at the Metropolitan Room on December 10th to do a Christmas show but unfortunately I have other plans or else I'd go in a heart beat. Hopefully I won't have to wait decades to see her live again. She mentioned working on some new pop music so I'll keep my fingers crossed for a full pop concert, but if not, then the show I just saw will remain a pleasant memory.