When the pandemic first started and almost everything shut down, I fell into the routine of still going to work everyday (which, at times, was worse than the pandemic itself) and coming home to a partner I love, but "me time" was non-existent. Now that events are happening again, like concerts and book signings, I decided to make a New Year's Resolution to go on a date night once a month with the love of my life…me, of course.
There's no gayer way to start off my date resolution, than with an overnight trip to New York City for a Kristin Chenoweth book signing. I got myself a room with twin bunk beds (because it was cheaper and I didn't have to choose between top or bottom) at The Pod Hotel in Times Square. The room was so cheap, $130 after taxes, that I called ahead to make sure it wasn't a hostel where I'd be sharing a room and toilet. I'm cheap, but this queen doesn't share her thrown. The hotel was a short walk from Grand Central Terminal, nearby most theaters, the room was small but clean, and the staff were exceptional letting me check in early and gave me one double bed for the same price.
Where the magic happens! Who needs a box spring or a closet? This pic was taken from the hall and I was holding the door open with my foot.
It was unseasonably warm for January, with a slight chance of rain, so walking down to Barnes & Noble Union Square for the book signing was no big deal. While walking along I did feel a drop hit my lip, I've been so good about wearing a mask indoors that I didn't think I needed one outdoors, and I said a silent prayer (this is one time where I'll believe in God) that it was rain and not a mystery liquid from some other source. I'd rather get drenched in a January rain storm than end up with a cold sore. Only I could go on a date with myself and end up with herpes.
My praying continued when I got to the event because I wasn't looking to engage with the hard-core fans. I've been to enough events to know that my phone needs to be out and glued to my face to avoid eye contact and conversation. I'm a fan of Kristin's work but I am not able to be quizzed on every time I have seen her, rank all of my favorite performances, or recall the dates that I attended Broadway shows she starred in. The event was moderated by Broadway star Elizabeth Teeter and they spoke for a while about all aspects of Kristin's career. This was my first time seeing her speak in person, this I know, and she was just as sweet and funny as the hard-core fans in line promised.
No posed photos but she did personalize the books and took a moment to talk to everybody.
Kristin's book, "I'm No Philosopher, But I Got Thoughts," is a short and light read. She has thoughts on a bunch of topics like belonging, vertigo, harmony and loss. My favorites are the hysterical self-deprecating stories like when she sent out Ambian-induced career-damaging tweets, accidently sent a cookie basket to someone's funeral (mental note: make sure Kristin gets an invite to my funeral), and wore a designer's tube top that she thought was a skirt in front of her (Kristin even has my funeral outfit picked out). Kristin is religious and mentions folks from the Bible in some of her stories but one of the big take-aways is that, in religion and life, you should learn from things that work for you and delete the rest. What has stuck with me the most from Kristin's book? Fish have to swim in their own toilet. I can't unthink that, and now you can't either, you're welcome.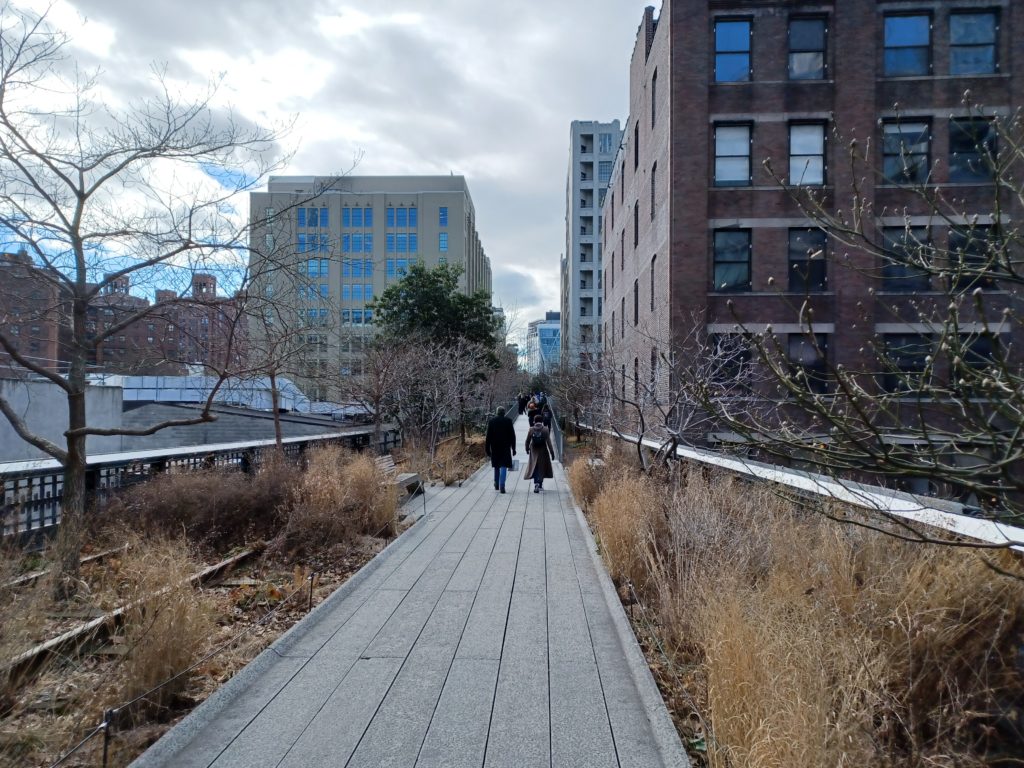 Got to love The Highline in the winter midweek because usually it's packed.
The next morning after waking up after an ok night of sleep (the hotel doesn't have the most soundproof walls but they did have a noontime check out), I walked to pick up a vegan breakfast sandwich at a nearby café, grabbed a couple bananas from a street vender, and tried unsuccessfully to score a cheap Broadway rush ticket online. It was in the 50's so I decided to take myself on a romantic walk along The Highline Walkway which is one of my favorite things to do in New York. I didn't think it had been that long since I was on the Highline but as I hit 14th Street I noticed a whole new park coming out of the Hudson River on huge cement pods a few blocks away. So I checked that out, finished my walk of the Highline and made my way home to beat rush hour traffic.
Nothing says welcome to New York and the future like cement parks on a river.
It might not be the perfect date for some, but it was everything I had wanted after a few rough years. I know how to treat my lady right.