When my partner and I were debating where to take our first vacation and flight since the pandemic started, we wanted something low-key and no stress. We settled on Puerto Rico because we could fly direct from the airport a half hour from our house, no customs or passports, no money conversion, and just a four-and-a-half-hour flight.
From beach front to city scape.
I'm geographically impaired and it would take me a few tries to find Puerto Rico on a map. I don't really research a place much before traveling there, I prefer to experience a place for myself. I knew Hurricane Maria had caused destruction back in 2017 but I didn't expect to still be seeing the repercussions to this day. There were many deserted and boarded up buildings. I also didn't expect to see so many feral animals. The feral cats made me sad, while the chickens and roosters blew my mind, I didn't know feral fowl was a thing. This all hit me just on a short walk from our hotel to dinner the first night we landed. It took a few days for the positive vibes of Puerto Rico to sink in.
Where my ladies at?
Yes, the heat in Puerto Rico is a thing. When it hit 114 one day, the other days felt cool in the 90's. There was almost always a constant breeze which helped and anytime we went inside, the air conditioning was set to nipple-hardening cold. I'm probably the only person who'll complain about Puerto Rico being too cold. I had to buy a long sleeve shirt to wear in the hotel (I would have bought sweat pants too but good luck finding those in the tropics) because the room had two thermostat settings, Antarctica or Hell.
From one ferry to another!
There are a few transportation options around Puerto Rico. People said we'd have to rent a car to get around the majority of the island but traffic was so insane, I wouldn't drive. Uber was our go-to for places too far to walk to. The hotels in our area used the same shuttle service to Old San Juan, The Convention Center and Escambron Beach. A train services part of the island but we didn't use it, however we did take the ferry over to Catano for a buck round trip. You can take a shuttle from the pier to Casa Bacardi which is the largest rum distillery in the world or buses to other parts of the island, instead we walked around town checking out the remains of a Pride event from the night before.
Street walking is an art.
In my gay opinion, walking is the best way to get around San Juan and other neighborhoods of Puerto Rico. It gives you a feel for the island and I'm a sucker for all the statues and art you can come across. Of all my past travels, one of my favorite experiences was the street art in the Wynwood neighborhood of Miami, so when my partner found the street art on Calle Serra, it was a must see and didn't disappoint. In Old San Juan we walked along the cobblestone streets through the colorfully painted buildings between the two old forts, Castillo San Felipe del Morro (El Morro) and Castillo Cristobal. El Morro is on a peninsula with beautiful views of the water and Cristobal has creepy tunnels full of the scent of Puerto Rico, musty with hints of suntan lotion. For $10, you have 24-hours to visit both historic sites.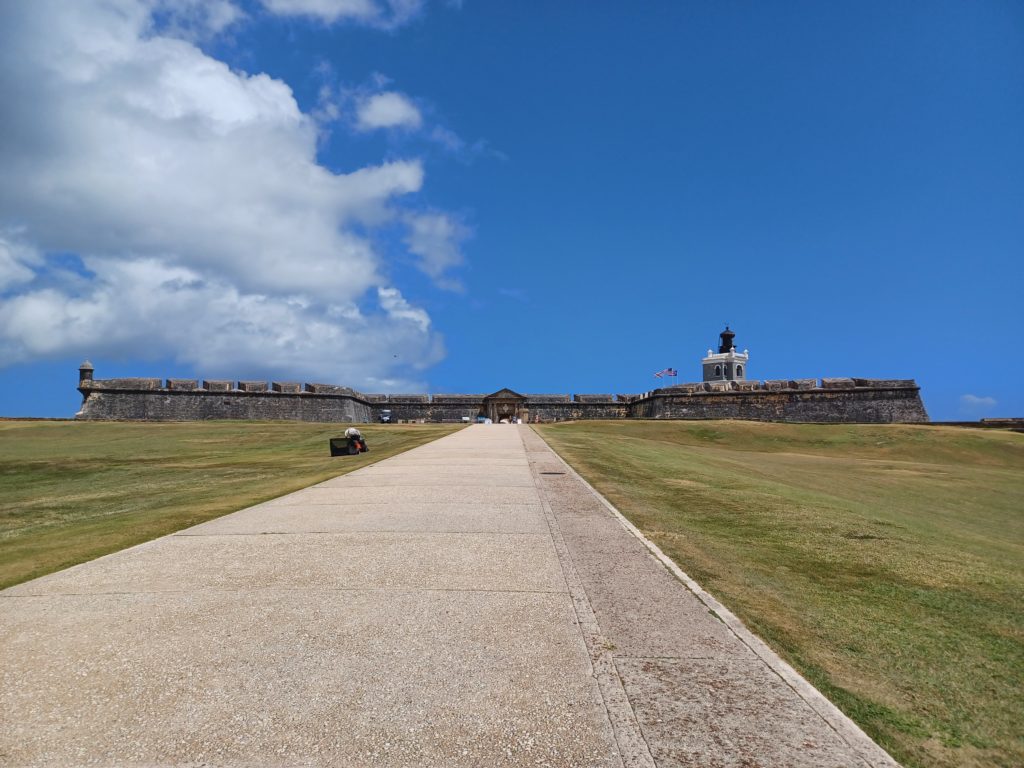 You'll definitely get your steps in.
If you prefer strolling in nature, The Jardin Botanico de Puerto Rico is unlike any botanical garden I've been to and free to walk around. However, the maps and trail markings are disorienting. The hiking trails and roads lead us through the flora and fauna while we dodged skittering lizards and slithering snakes. I'm fine with lizards but snakes make me scream at the same decibel level as if Cher jumped out of the brush.
Be prepared to get lost in the botanical gardens…literally.
When it got too hot or rainy, we made indoor plans. Puerto Rico has the largest mall in the Caribbean, Plaza Las Americas (525 Av Franklin Delano Roosevelt), with over 300 stores covering 1.8 million square feet. When we were there, they also had 150 local artisan booths on the lowest level of the three floors. If you want to get out of the heat and sit around an air-conditioned museum watching artsy films, there's the Museo De Arte Contemporaneo De Puerto Rico (1220 Ave Ponce de Leon Esq R.H. Todd Pda 18) but I preferred the Museo De Arte De Puerto Rico (299 Avenida Jose de Diago) with it's mix of modern and old-school stationary art by Puerto Rican artists. Our timing was right for an all-day Pride event next door to our hotel at Distrino T Mobil (250 Convention Blvd) which is a very cool open air entertainment venue with restaurants and bars surrounding a courtyard with seating and a stage for musicians (Bri La Pelva) and drag queens (Dixie Bee, Saphire Bee and Angelina Bee) to perform on, that were then projected on huge screens and video displays overhead. We scored a table at a bar with a great view.
Putting the ho in Puerto Rico.
Food options for meat eaters in Puerto Rico is aplenty. However, one of the perks of Puerto Rico as a vacation destination for me, was lots of vegan options. My two favorite places, that I would go back to in a heartbeat were, San Juan Smokehouse (La Placita de Santurce 255 C Orbeta) with its pulled "pork" sandwiches and side of rice and beans and Peace Love Vegan (1265 Calle del Carmen) for pizzas and calzones. As good as the food was, lets talk about what's most important, dessert. Via Lactea Scoop Shop (1353 Ave Juan Ponce de Leon) is all plant-based and a bit hard to find but worth the search. You need to be buzzed into the building by security and maneuver your way to the shop in back. I recommend the "Flight" which is four "mini" scoops (each is like half of a normal scoop) with a piece of Oreo cone stuck on top. For a person who finds it hard to make decisions, why choose one flavor when I could pick four. The Pistachio & Almond was pretty amazing and something I never had before.
Things are getting a bit wild.
While on the topic of food, Puerto Rico has many places with outdoor dining, which I've become partial to. However, being outside or on a covered patio invites the pigeons and chickens in. They're used to people and can be entertaining but aggressive. If you're traveling solo, you'll never eat alone, shooing them away is part of the dining experience. At one restaurant, I felt what I thought was rain or air conditioner condensation on my leg but when I looked up, I saw a pigeon roosting and using me as a toilet. I tell my partner, "I was just pissed on by a pigeon" and all I got for a response was "Oh." A few days later, karma was a bitch (that I know, because it takes one to know one) when we were sitting outside at a different restaurant and a pigeon flew right over my partner's shoulder and fluttered itself right into the middle of his half eaten lunch. I don't know who was more shocked, my partner or the pigeon, but I just said "Oh" and kept on eating!
For those who are into water sports.
Whether you're a beach bum, rainforest adventurer, or something in-between, Puerto Rico has a lot to offer. It's definitely a slower pace than New England. They're on their own time schedules and sometimes things are supposed to be open and they're not or in the case of an outdoor market we tried to find, nonexistent. A few pointers: know a bit of Spanish because some Uber drivers and waitstaff didn't speak English, know how to pull up QR codes on your phone because that's the only way many menus and tour maps were available, cash or Venmo were the only forms of payments at some restaurants, and if you Google something on your phone in the upper right corner are 3 dots that you can click on and choose "translate" to get Spanish menus or signs in English. Time wise, we did everything in a week but could've cut it down to five days easily. So grab your SPF 50 (I love Sun Bum), your bottle of water, and take in La Isla Bonita.
Hit the beach, stroll the park or shop til you drop!